VANCOUVER, November, 2021 – On behalf of Proof of Care's CEO, Samuel Grant, it gives me great pleasure to announce that Proof of Care has become the first Home Health Care Company in Mainland British Columbia to be a Certified Living Wage Employer in partnership with Living Wage for Families BC.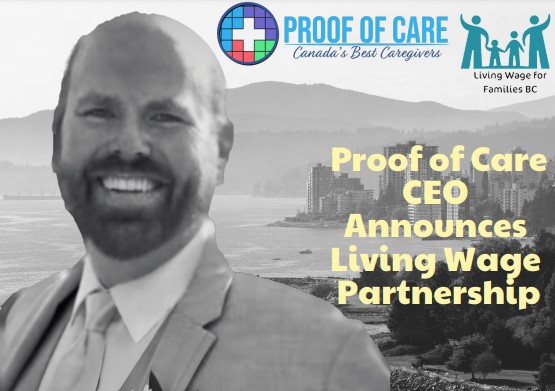 As Vancouver's leading Home Health Company celebrates its 10th anniversary, it is timely that Proof of Care sets a precedent as the first Home Health Care Company in Mainland British Columbia, Canada to become a Living Wage Employer. A living wage is different than the minimum wage; it reflects an income a family provider must bring home in order to meet their basic living needs.
Proof of Care announced today that all of its employees and service providers will benefit from their commitment to the Living Wage policy. Proof of Care is joining a growing number of employers being certified under Metro Vancouver's Living Wage Employer Program who have recognized the social and economic benefits of paying a living wage.
Approximately 25% of couples with children in Greater Vancouver live below the Living Wage level. The current minimum wage in British Columbia is $8.75 per hour, the current hourly living wage for Metro Vancouver is $18.81 per hour.
"Paying a living wage to our fantastic Caregivers, Nurses and service providers will help make families stronger and communities healthier. British Columbia has the highest cost of living yet the lowest minimum wage in Canada," said Samuel Grant, Chief Executive Officer, Proof of Care. "We have also set the highest standards of care at Proof of Care, and that care extends to our employees as well as our clients. We want to be part of a community that invests in the long-term success of individuals and the economy".
"Our focus has always been on making an impact in the communities we serve" said Samuel Grant, CEO of Proof of Care. "This initiative is very much aligned with our values of building health & wellness in the communities where we live and work. The living wage is an important policy initiative for organizations to adopt and has the potential to improve the lives of low income individuals and families with children, and make a broad impact in society."
People who work for low wages face challenging choices: buy clothes or heat the house, feed the children or pay the rent. The result can be spiralling debt, constant anxiety and long-term health problems. In many cases it means adults in the family are working long hours, often at two or three jobs, just to pay for basic necessities.
Proof of Care – Home Health Care
SOURCE Proof of Care – Home HealthCare
For further information: Proof of Care – Home Health Care, 604 986 2273, Email: info@proofofcare.ca
Related Links